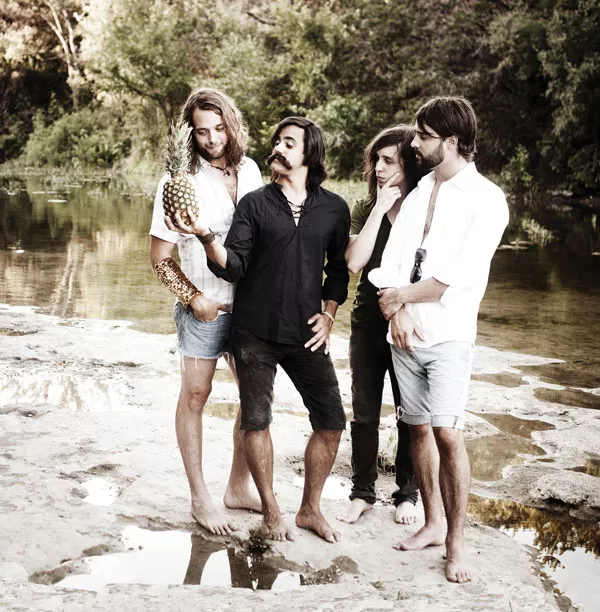 Can you blame Jesus for being a no-show once again? Even he wants to dodge his nuttier followers.
The beat
The very existence of the multi-day festival Mills Stock 2011 affirms the gathering renaissance of Mills Avenue as perhaps the city's most culturally fertile corridor. The grand finale was a packed special edition of Southern Fried Sunday (May 15, Will's Pub) featuring the Bright Light Social Hour, from Austin, Texas, who arrived on tons of accolades (they swept this year's Austin Music Awards with the trifecta of Band of the Year, Album of the Year and Song of the Year) and word-of-mouth hype about their live prowess. Their Southern disco-rock is a big, jammy, body-moving cocktail of rock, funk, soul and dance. Sure, their sensibility – as exemplified in things like goofy facial hair and the keytar – is cloying and attention-begging enough to trigger some skepticism. However, they're more than hollow peacocks. I'm not totally sold on their music, but they're strong musicians who know how to bring the party.
Although known more for his songwriting (and acting) than his musical performances, there is something particularly real about sitting in the same room as gentleman outlaw Kris Kristofferson (May 18, the Plaza Live). It's seeing legendary American songwriting up close and personal. Age has weathered his voice, but even that hasn't diminished the expressive power of his literate songs. Perhaps it's the unassuming charm of someone whose iconic songs are more often heard through others' voices, but a warts-and-all kind of performance like this totally works for an artist this honest. Kristofferson is the culmination of country humanity, folk humor and the smooth self-possession of a seasoned man. And hell if hearing "Sunday Mornin' Comin' Down" performed live by its actual author doesn't prove that it's still one of the most beautiful bits of heartbreak ever written. Like a hipper, more urban sister, the Plaza should book more of the old-school masters who sometimes play Melbourne's King Center so their appearances don't fly under the radar of younger generations.
Back over on Mills, Merge Records band the Love Language (Will's Pub) put their considerable pop smarts on full, fresh-faced display. By keeping it simple and direct, the North Carolinians smartly allowed their bursting hooks and lo-fi vim to shine even louder and brighter in the live context. With big spirit and bigger melodies, their show is a blur of joy.
Despite how schizophrenic they seem on paper, it's easy to see during a live performance why South Florida's Fake Problems (May 19, Back Booth) is rising impressively. Their blend of melodic punk, folk tendencies and surprisingly wide indie-rock diversity is fetching, modern and somehow falls in the right places, often playing like a sweet-natured Against Me! And their huge heart is pretty undeniable.
Also rising fast, and kicking maximum ass, is Mexico-born Le Butcherettes (May 21, Hard Rock Live). Although the trio bashes out their punk-minded hard rock with notable power and rawness, this vehicle is all about Teri Gender Bender. She's a real frontwoman whose performance style is full-throttle gutsiness. Beyond even her possessed theatrics (tumbling around on stage, jumping on the drummer's shoulders and diving into the crowd at the end of the set), there's a raging animalism about her. And no matter where you are in the room, that booming voice will reach out and grab you by the neck. She has more than just massive star power; she has the stuff to become one of the most riveting modern exemplars of female empowerment in rock music.
It totally sucks that I finally caught local band Sterile Prophet (May 16, Hoops) on their last performance with singer Brett Mau. Besides necessitating the hurried moving of tables out of the way, his physicality and willingness to stir shit up gave their heavy alloy of sludge, doom and hardcore some major presence. However, the reassuring news is that his temporary fill-in will be Ben Rudolph from Khann (and a bunch of other bands), a dude who's no stranger to extreme performance.
I've already talked about how fascinating Hoops shows are, sociologically speaking. Before, I used to roll in when the shows were in full swing. But there's nothing like seeing the full metamorphosis from castoff dive to unlikely DIY punk venue, as I did this time. It's probably the city's oddest changing of the guard.