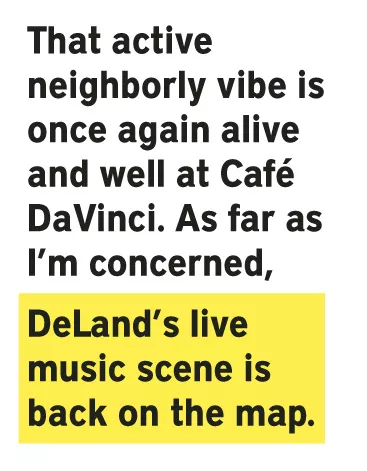 Be warned: I'm on columnbreak next week. I know, again! A hairdo curveball threw you guys off for a while, but it seems I need to resort to more extreme measures to avoid being spotted. So this break is for face-altering cosmetic surgery in an unnamed South American clinic. So in the future, when you see a guy who looks suspiciously like me, just remember: I no longer look like that. OK? Good. But I'll be back on again the week after. Swear.
The beat
There's music and there's live music. And the two acts on a recent bill (Feb. 8, the Social) understood that distinction and brought atmosphere. Despite the club's full array of illumination, NYC opener Talk Normal used austerity to transport the audience. Shrouded only in faint and spare red light, they conjured decay and subterranean darkness through a mysterious, unsettled drone of No Wave and noise-rock. Dissonant, swarming and state-altering, their grippingly rhythmic procession throbs on that wavelength between song and incantatory ritual, a realm populated by future savages like Liars and Black Feelings. More than just "out there," this entrancing stuff digs deep down.
But right before headliner Zola Jesus went on, the club pumped an English moor's worth of fog into the room. The drama, the mystique! (Seriously, I miss fog machines.) Amid the haze, singer Nika Roza Danilova and her band also opted for non-spotlighting, instead playing backlit in blue and orbiting a blue light cube.
As for the music, I didn't know how effectively this vehicle for Danilova would translate live. However, she came correct with a percussionist, violinist and keyboardist. Helmed by her harrowing, lovely voice and physically expressive performance style, it all combined to breathe much more dimension and vitality into her songs than expected. While alluring, Zola Jesus' recordings can sound like Austra's icy and detached goth sister. But Danilova's stage presentation has humanity and heartbeat. And what the performance and visual gestures demonstrate is proper thought to live effect. I was undecided about her to this point. But after this, I'm sold.
Although a little ragtag at times, Miami's Los Bastardos Magnificos (Dec. 9, Will's Pub) were fun and reasonably interesting. With nice instrumentation, including upright bass and autoharp, the colorful outfit spans the folk map – across country, bluegrass, gypsy, et al – with an outlaw punk soul. And any band that covers the John Prine/Iris DeMent joint "In Spite of Ourselves" (a song that makes me laugh so uncontrollably that I've permanently banished it from my workout playlist after pulling a goddamned muscle) earns some bonus points.
The latest performance by folk duo Paleface (Feb. 10, Café DaVinci) was good as usual. But I won't lie, this one was chiefly an unmissable excuse for me to suss the newly reopened Café DaVinci in downtown DeLand (the third iteration since I've been going).
Here's the thing: When you inherit a built-in asset as intrinsically special as this place, the best idea is to not fuck it up. So when I stepped back into the place and discovered that the only change to this gem is that it's a little more orderly, well, amen. Between the character-rich interior to the perfect, now more pristine Southern courtyard (that sported a new, temporary, but impressively large outdoor stage that they may employ for big events from time to time), all of DaVinci's extraordinary charm is not just intact, it's buffed to a fresh shine. And since it's one of Central Florida's very best hangs, that means everything in the world. So maximum ups to the new owners for resurrecting the place with love and respect. And it was great to see some familiar and friendly DeLand faces again.
In terms of music, the new management has so far started their live offerings with a lot of free shows. Hopefully this, and the new full liquor bar (!), will keep DaVinci permanent this time. With some booking help and momentum, it can once again be a live music destination. DeLand is one of Orlando's most lovely satellite towns and, judging on this night at least, that active neighborly vibe is once again alive and well at DaVinci. As far as I'm concerned, DeLand's live music scene is back on the map.