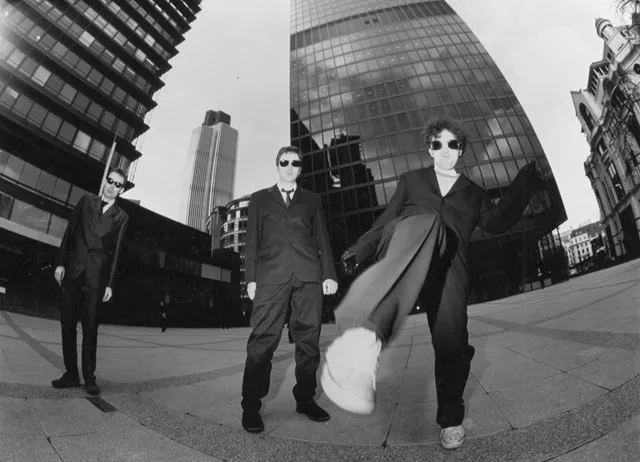 For many, it's the Beatles, Nirvana or Radiohead. For me, it's the Jesus & Mary Chain. Although I was resigned to the prospect of never getting to see them live, the noise gods miraculously reformed several years ago, and I finally got the chance (Sept. 6, Atlanta, Variety Playhouse). And though they were decent live, the show was a bit like prom – not quite equal in real life to my self-imposed hope and hype. Because of the exalted place they hold in my heart, perhaps they could never have lived up to it. But I don't entirely believe that. I mean, really, those guitars should've been waaaay more obscene and blasting. This is the Mary Chain after all.
However, at least I got to see a bit of the old Reid brothers unpredictability with guitarist William sort of melting down onstage at the end of their set, sometimes either fucking up the song or seemingly playing a different one altogether than the rest of the band. I swear I heard him play the riff to the Stooges' "I Wanna Be Your Dog" several times. For a famously mercurial band like JAMC, it's nice to see that age hasn't completely fixed them yet.
But any shortcomings there were – well, whatever, man. At the very heart of all this is that they made a body of work that is staggering to me in the most singular and tailor-made of ways. And there's something enormous to be said about any band that can make you feel something so powerfully. That's why, for me, this was a pilgrimage, a personal imperative, a total fanboy experience. For any true music head, there is nothing on Earth like that.
The Beat
Representing the young side of the 17th anniversary week for Will's Pub (cheers to that), Relief in Abstract presented a mostly local showcase (Sept. 4, Will's Pub). Although these particular acts were unfamiliar to me, the Orlando music label has built itself into such a reliable name in the young experimental electronic/beat scene that practically anything those guys put their name on is worth at least investigation.
Apoch was a nice balance between dance undertones and cerebral sounds. His grooves were deep and his nicely cut rhythms were crisp and pumped with bass.
Sundrenched brought a more chill, reclined drift with thicker, more softly blurred underwater strokes. His abstract expeditions kind of make you feel like you're in a hip sushi restaurant or something, but they're not just basic background sounds. Maybe it don't exactly, y'know, pump dem nutz or anything, but it's pretty nice, prismatic stuff and more than just pastel wallpaper. But a little extra wasabi never hurt anyone.
RIA artist Marble also performed solo. But besides your basic knob-twisting and button-mashing, he actually sang, which certainly goes to his credit. And his more pop-oriented clarity produced some very lovely songs.
Then, amid all those solo jocks, Jacksonville's Personal Boy came with an actual full-band setup. Despite that surprise, however, they ended up being a basic-sounding synth-pop act.
The pinnacle of the anniversary week was a band that hasn't played Orlando since they played at the original Will's Pub location more than eight years ago. In concert, Colorado's Slim Cessna's Auto Club are an experience. There's a good reason Legendary Shack Shakers frontman Colonel J.D. Wilkes, himself a total wild man onstage, recommended these guys to me. First, they're strikingly fronted by the duo of Slim Cessna, who looks like a preternaturally stretched country preacher, and Jay Munly, who looks like a possessed, singing cadaver. Ever seen Christian Bale in The Machinist? Well, dress him up in Western wear and you've got Munly.
But their devotional live spectacle is rousing in a way that is unfamiliar to most rock fans. Like American roots music gone seriously sideways, their Appalachian punk had city people dancing like hillbillies and is probably the closest most of us heathen bar folk will come to a pure church experience. The only thing missing from Slim Cessna's show is rattlesnakes. The band whipped the room into such a rapture of in-the-moment bliss and belief that they could've convinced this crowd to march on City Hall. I can't think of any more manifest testament to their music and live show than that.