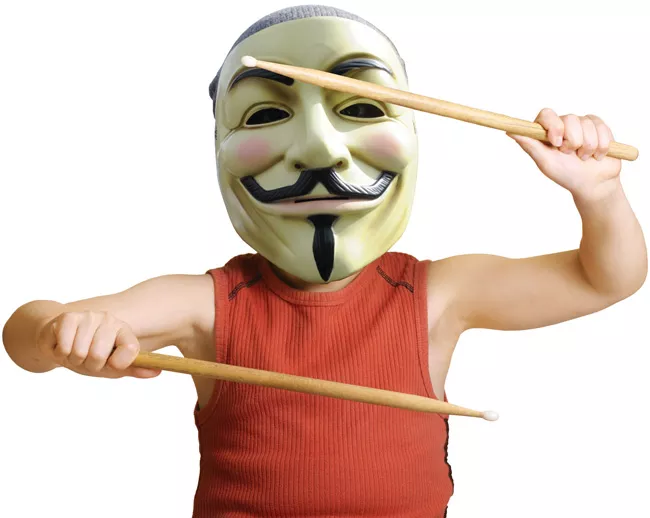 Although I mourn the fucked-up loss of esteemed local musician Ralph Ameduri, I didn't know him personally and won't do any false eulogizing. Luckily, Orlando's music community said it all at Ralph Fest(Oct. 23). In all my years covering this beat, never have I seen tribute for a local musician on this scale. Not even close. And that says volumes about the man and his mark on this city's culture.
Occupying the entire block of Pine Street between Orange and Court Avenues, this full-on downtown street party was as crowded as any major event I've seen at Wall St. Plaza. It sucks that tragedy is what precipitated this, but it was a staggering showing on everyone's part, raising almost $23,000 for Ameduri's family. Wow. See? Attendance is everything. And there's no better way to celebrate a life than to live out loud and together.
99 Percent Fest
Speaking of representing, it's great that the art of protest in this country is hitting critical mass again. But face it: This is 21st century America and not the America of the '60s. And even if it's for our own well-being, our doughy asses need some serious incentive to exert ourselves.
Luckily, music-scenester-turned-activist Tim Murray has organized the 99 Percent Fest (Nov. 5, Senator Beth Johnson Park), a musical complement to the Occupy Orlando activity going on by the Orlando Regional Chamber of Commerce. Beginning at 1 p.m., the all-day free event will feature notable acts like Telethon, Lighthouse Music, SKIP, Room Full of Strangers, and it concludes with a hive percussion performance by the unequaled SSLOTS (they're trying to recruit 99 drummers!) that will forever shatter any hippie notion of a drum circle you may harbor. So go rock out and, y'know, maybe learn something.
The beat
As a music venue, McRaney's Tavern has always been treated as an afterthought to the Social, which shares some of the same management. However, there's been some higher-caliber activity percolating over there lately.
Recently, New Orleans' Dirty Bourbon River Show (Oct. 24) brought their young-blooded, old-timey gumbo of folk, gypsy, blues and Dixieland with a little bit of Man Man fervor and a lot of big-top pomp. The full-service outfit packs tons of wild whimsy and goes the whole hog. That's right, cowboy, there's even a tuba. The best part: They're a live band that doesn't hold that backward mentality that intensity necessarily originates from the audience. They'll bring it regardless.
However, despite the upped quality and traffic in live music at McRaney's, more diligence in adding local openers would help its often underattended shows greatly. Some of these shows definitely deserve more bodies, but they need a little local boost. It builds attendance on the street level, which helps the mostly unknown touring bands, and provides gigs for locals. And it sure helps out the staff, who live off those tips. It doesn't take much extra effort, but could make a big difference.
Florida export Astronautalis is smart and gifted. Most importantly, he's one of the most visionary voices in rap today, pushing the form further than anyone I can think of currently. In fact, he's practically beyond hip-hop by now.
That said, there were some issues with his latest show (Oct. 28, Firestone Live). First, the poor mix resulted in off levels and thin sound. Furthermore, I love that Astronautalis is moving into full band territory because it's the next level for him, but his surrounding cast still needs some work to cohere enough to appropriately honor his excellent songs. And that guitarist needs to not sing at all.
But it's always a show so long as Astronautalis himself shows up. Why the entire world doesn't yet realize that he could hold both the future and salvation of rap is baffling. Maybe now that he's in the indie-rap hotbed of Minneapolis he'll finally get his due.
Despite his very literate mind, the music of Nashville garage upstart Pujol (Oct. 29, Will's Pub) is a bracingly simple combo of sweetness and snot. Most importantly, it's made of real melodic meat and not just punk posturing. Man, this guy throws out anthems like effortless sparks. And although he makes it seems simple, it's nothing easy.