Page 2 of 3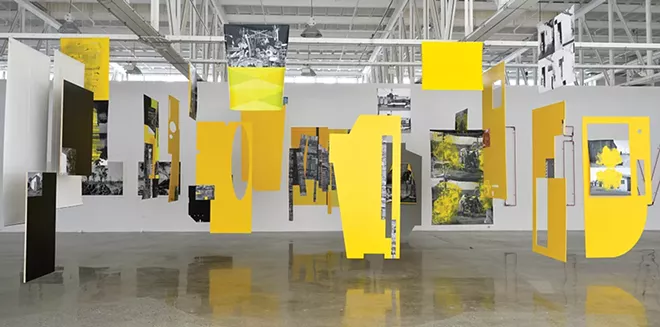 Sergio Vega, "The Lost Steps (after Steichen, Oiticica, Derrida)," 2015
JBY: Hmm, interesting you say "last year the show alluded to architecture," because I'd argue that this is the year of that. However, not to short-shrift Vega: Those floating panels were of course visually stunning, but the reference to the eye-grabbing, temporarily built environment of the convention floor as a way to "market" the information he's trying to impart was, I thought, a neat twinning of jocularity and rage.
RTR: While Vega looked backward at an architecture of the past, Trowbridge looks forward with a raised eyebrow at technology. His Mondrian-esque deconstructed QR code paintings contemplate technology's force in our lives.
JBY: God, who still has a QR code scanner on their phone? Word to the wise: If you are attending this year's Florida Prize show, come with scanner already installed, and also be prepared to download a couple of proprietary apps. The good news – it's worth it.
RTR: The paintings stand on their own, almost. "You're So Pretty When You're Faithful to Me" is an inherent contradiction. The painting's dark umber lines and fluorescent yellow spots create a geometric, interlaced pattern. Bringing this contradiction to the front, rather than sweeping it under the rug: Isn't that modernism incarnate?
JBY: I'm not 100 percent positive I can call giant paintings of QR codes "modernism incarnate," but they are positively pretty, and I can't resist a Pixies reference. Speaking of references, patient viewers with the correct set of cultural references will howl with glee (eventually) at Anthea Behm's "Adorno/Bueller" video. Spoiler alert! Spoilers to follow.
RTR: Vega's work alluded to Jacques Derrida, and here, Behm references Theodor Adorno. Both philosophers are on trial in this show for their insidious theories of deconstructionism, or post-structuralism, a disease that has addled artists, architects and writers. Behm's film has all the seriousness of a postgraduate dissertation, but with the absurdity of Ferris Bueller.
JBY: The joke takes a while, but it pays off for anyone who's crammed for an art theory course. And it's not all laffs; there's a graceful cycle of degradation/decay/regrowth in the video.
Then there's Noelle Mason's installation and tapestries. You shut down for a minute during our walk-through together.
RTR: I just couldn't look at it, Jessica, when we were there – I acted oddly because I was hastily building an emotional wall to keep it out. Then I went home and read the Angela Davis quote my wife has in her studio: "Progressive art can assist people to learn not only about the objective forces at work in the society in which they live, but also about the intensely social character of their interior lives." So Kim and I went back, I looked at it with her, and indeed Mason's textile interpretations of violent acts assisted me to learn something. Now, I think it's the best art in the show.
JBY: Agreed. (I also think it's interesting that two of three Florida Prize winners have been textile artists, but I'll stifle that digression.) "Love Letters," the huge Columbine killer-referencing installation, will obviously get the most attention due to recent events, but I was most haunted by her tapestries of thermal-imaging border surveillance. Homeland Security's technology is good enough to pick out the people smuggled away inside a semi-truck, even so far as to be able to distinguish what they're doing back there. And the rendering of this cold, hard tech (I won't say masculine, but Mason does characterize it as such) in the soft, warm and, yes, traditionally feminine medium of cross-stitch gave me a chill.
RTR: Moving on to Michael Vasquez's huge, macho portraits of Florida urban gang members. Brutal volatility, menacing masculinity and hellish lighting make them overpowering. There's a humanity on the edges of them, though. That's what makes you linger over them.
JBY: Vasquez grew up in St. Petersburg, half Puerto Rican, half Polish-American, raised by a single mother. I gotta say, it's distressing how many reviews of his work I've read that drop terms like "thug" and "ghetto." OK, sure, his canvases are peopled with young men in bandanas and snapbacks throwing gang signs. But when we look at a Vermeer, do we call his subjects "a bunch of housewives" or label them "bougie"? No, that would be reductionist. We focus on the emotion and the relationships, the universality, as well as the painterly skill. Same here. I don't see menacing masculinity so much as a longing for, or exploration of, masculinity. Also, really spirited and gestural brushwork.
Moving along, we get to Ernesto Oroza's section. I. Love. This.
Ernesto Oroza "Architecture of Necessity" 2016
RTR: Oroza's Cuba is what Portland, Oregon, wishes it could be: a maker culture par excellence. Oroza shows video and photos of bonsai'd architecture, buildings adapted over time by tiny adjustments – a brick here, a metal grille there. And his vitrine full of handmade artifacts is quietly electrifying. You realize that in Cuba, you don't go to Home Depot to get something like a junction box or a handful of bolts. If you need it, you make it. Somehow.
JBY: His philosophy of the "Architecture of Necessity" smashed into my brain in a way I haven't experienced since the first Andrea Zittel show I saw. It just feels like truth, self-evident and complete in itself, not any kind of belabored conceptualism. Stunning.
RTR: Did you get Roberts' app to work? "Dream Garden" was provocative, yet the app that I downloaded at his request didn't have the effect I was led to expect. "Waves," however, was mesmerizing. I really enjoyed the concept, and the fluctuating blue pattern was serene and contemplative.