Page 3 of 3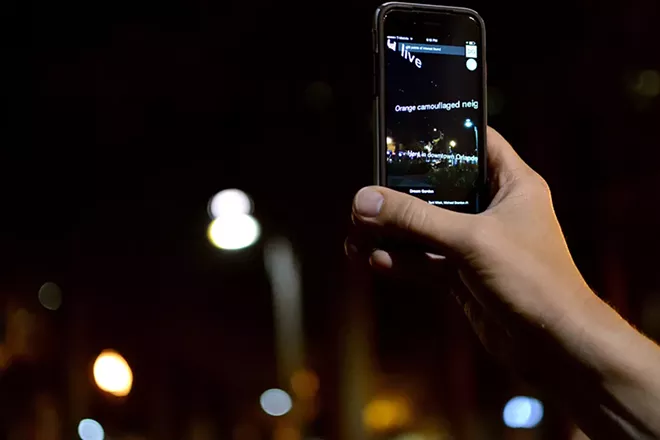 Matt Roberts, "Dream Garden," 2016
JBY: "Dream Garden," out in the rotunda, is reprised from its appearance in last year's Art in Odd Places. I liked the idea that the sparse lines evident at the beginning of the exhibition will become a thick forest of words by the end. And his collaboration with local poet Terri Witek works tremendously well (if you have the patience to deal with the Layar augmented reality app). But yes, the wave bowl is good fun. "Visualizing data" sounds yawny but the tangible forms are captivating.
RTR: It was in the same room as Guerrier's installation, and they went well together. Guerrier's wall of vertical pastel rectangles was a nod to Modernism, I thought, but the delicacy of the tissue paper built a tension with the monumental images of the tropical landscape.
JBY: It felt sere and inaccessible to me until I read the wall texts. Never be embarrassed to ask for help, I guess. Once I got some grounding in his intentions, the emotion was apparent.
RTR: Guerrier's light touch contrasted with Maria Martínez-Cañas' heavy, textural collages of magnificent concrete bunkers, partially erased photographs and large-scale photo-paintings. They draw you in, they are intimate, and they have a definite Latin American feel to them. It's hard to explain what that is. I love them.
JBY: Is it perhaps ... the concrete architecture, Richard?
RTR: Probably. They're really muscular and self-assured.
JBY: Massively. And at last we come to local homegirl and Rollins professor Dawn Roe! She's making waves, literally ...
RTR: Roe's work has evolved into a really interesting place. Letting nature tell its own story, rather than superimposing our classical viewpoint on nature, you get untraditional photography. Then she let nature's patterns influence a human act: crumpling aluminum foil. Roe works somewhere between art and science, and it's a fascinating cerebral place.
JBY: Comparisons are odious, I know, yet I can't seem to stop. This time my brain wants to link Roe's work here to James Turrell's 2013 installation at the Guggenheim, "Aten Reign." They aren't visually similar, but they impart the same sense of glacial change, of a serenity that can contain and coexist with disturbance. Also like "Aten Reign," I just wanted to lie on the floor and let it wash over me – and I did just that at the Guggenheim during that August 2013 heat wave. Sorry, OMA staff, if I'm encouraging bad behavior, but I can think of few better activities than genuflecting to art on a hell-hot summer day in Florida.