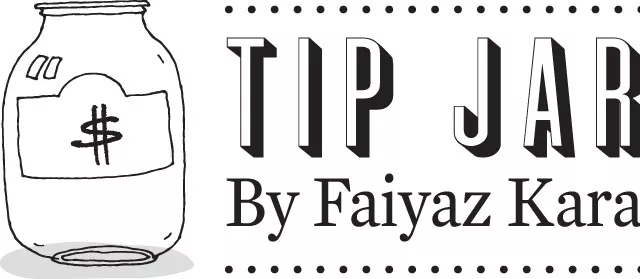 The Fresh Choice Market on South John Young Parkway will be the site for the third Food on Wheels Festival, otherwise known as Festival de Comida Sobre Ruedas. Taking place noon8 p.m. Sunday, Dec. 16, the event gathers many of the area's Latin food trucks representing street fare from Venezuela, Colombia, El Salvador, Mexico and Puerto Rico. In addition to the arepas, tripletas, mofongo, burgers and pasteles, guests can also enjoy coquito (eggnog) at this Christmas-themed event. Santa Claus himself will be present for photo ops with the kiddies, and entertainment will come in the form of eating contests, bounce houses and live music.
Dec. 16 also happens to be National Chocolate-Covered Anything Day (yes, it's true), and in honor of this timeless holiday, Peterbrooke Chocolatier is inviting folks to bring anything they'd like dipped and covered in chocolate to their Winter Park store from noon to 5 p.m. Guests purchase milk, dark or white chocolate for a discounted price of $10 per pound, then commence dipping, eating and packaging. Forget the lump of coal – stuff a brat's stocking with chocolate-covered ping-pong balls instead.
Or strawberries. Yes, Florida strawberry season is upon us and Dec. 15 at the Parkesdale Farm Market in Plant City, the Ravenous Pig's James Petrakis will be on hand demonstrating ways to can, pickle and preserve strawberries. He'll also impart tips on how to use the pseudo-fruit in sweet and savory dishes, and sign copies of his cookbook, The Ravenous Pig: Seasons of Florida, from 9 a.m. to noon.
Free beer! Free beer! Until Dec. 24, anyone bringing a newly purchased, unwrapped gift valued at $5 or more into Taverna Opa will receive a complimentary beer of their choice. Bring two gifts, get two beers (that's the maximum). It's all part of the restaurant's Toys for Taps initiative, with donated toys being delivered to the Salvation Army.
BRIEFLY
Monsieur Paul, which replaced the former Bistro de Paris, has opened in Epcot's France pavilion. The restaurant's name is a tribute to French culinary icon Paul Bocuse … Look for our Marlow's Tavern review next week, and look for a Marlow's Tavern to open on Highway 17-92 in Winter Park next summer. Given their expansion plans, this won't be the last we hear of Marlow's … Construction is progressing on Brown's Deli in Maitland's Village Plaza, with a grand opening scheduled for January … Finally, Quantum Leap (Orlando's only winery) will release three Italian wines 7:30-10:30 p.m. Friday, Dec. 14. A mere $21 ($25 at the door) will get you assorted Italian light bites and a sampling of all three wines. Che fico!
Got local restaurant dish? Send your tips to dining@orlandoweekly.com