With a sleek indoor dining area and a chilled-out outdoor patio, TR Fire Grill can match your mood no matter what you're looking for. You can easily tell from the interior decor that no space is wasted at TR Fire Grill. The inside screams sophistication, but it definitely gets cozy in the Chef's Corner—an intimate section where guests can learn from Chef Bob Gallagher. However, if you're looking for a bright, bustling brunch, you might want to grab a table on the patio. Munching on brunch while overlooking the vast brick patio and fountains of the upscale Ravaudage is never a bad way to spend a Sunday. TR Fire Grill is also mere steps away from the brand new Nordstrom Rack and just down the street from Winter Park Village, making this locale perfect for brunch and shopping... or a movie (in a recliner), you know, if that brunch put you in a food coma.
Mom and dad would love this spot for its sophisticated vibe, but the Endless Mimosas make the TR Fire Grill experience equally appealing for a booth full of friends. It's also dog-friendly on the patio, so even if you're brunching alone, you can always opt to bring your best friend.
Like many true brunch spots, TR Fire Grill doesn't play games when it comes to boozy libations. They give brunch mainstays like the mimosa a shot of adrenaline with unique juice flavors such as Orange Mango and Honey Tangerine, or you can go with classic Orange Juice if that's how you like it. For just a few dollars extra, you can kick things up a notch with Endless Mimosas. Of the three mimosa flavors, the Honey Tangerine rules supreme. Each sip is unmistakably sweet, but its smoothness is what keeps us coming back for more. Another shining star on the drink menu is the Pressed Sangria for 2, in which local fruits are immersed in amaretto and Malbec. To add just a little something extra to the experience, this smooth sangria comes in a French press accompanied by two glasses filled with ice.
A good drink menu calls for an equally good food menu, and that's exactly what you get here. TR Fire Grill has become a master of remixing and revolutionizing brunch classics like chicken and waffles. However, they also embrace the changing tides of brunch by including more diverse items like the Quinoa and Black Bean Burger, a vegetarian-friendly option with white American cheese, tomato jam, caramelized onions, greens, pickles and fries.
But do yourself a solid and start things off with an order of Wonuts. Churro-lovers have a new addiction with the advent of these waffle/donut hybrids dipped in gooey chocolate.Whether you choose the Wonuts as a starter or a dessert, you can't go wrong. Or, if we may be so bold, go with the Wonuts as an appetizer and dig into the Red Velvet Pancakes with sweet-as-can-be cream cheese frosting, bacon, seasonal fruit and maple syrup for dessert.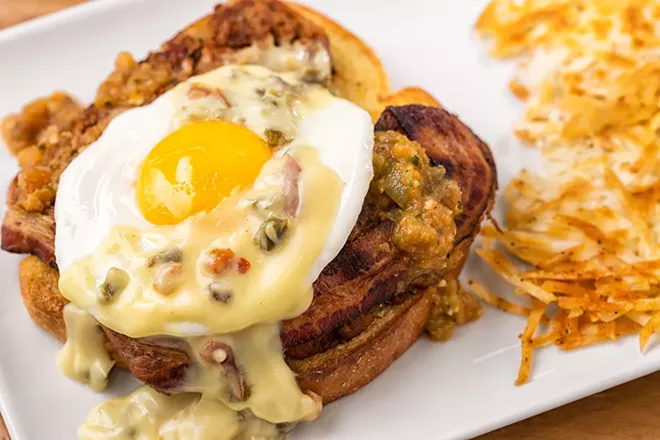 TR Fire Grill also takes a tired old brunch item like eggs benedict and gives it a makeover with the Southwest Eggs Benedict. The bacon and black bean potato hash, roasted tomatoes, mashed avocado and jalapeño hollandaise on the Southwest Eggs Benedict provides a uniquely flavorful foundation for the perfectly poached eggs. If you roll on the more traditional side, go for the Classic Eggs Benedict which pairs poached eggs with Canadian-style bacon, tomato and asparagus, roasted red peppers and jalapeño hollandaise on an English muffin. Also, for the localvores out there, TR Fire Grill, as a member of Fresh from Florida, gets all their eggs from Lake Meadow Naturals in Ocoee, Fla.
The ½ Pound Sunday Morning Burger is an absolute must for any bruncher who claims to "go hard." The fried egg, cheese, hash browns and tomato jam come together on this burger in a sublime symphony of mid-morning/afternoon-goodness. If you're feeling green around the gills from last night's escapades, we recommend getting a double order of fries. We can't stop thinking about how perfectly, deliciously seasoned they were and how we wish we had a mountain of them every time we're hung-over.
If the upscale vibe, Winter Park location and well-versed menu sounds like it could be a hard on the wallet, worry not, friends. You can eat here well after payday. Each menu item falls in the $7-$16 price range, so it's safe to say you can get out of here for under $25 per person, depending on how thirsty you are.
Whether you're in the suburbs or downtown Orlando, TR Fire Grill is the ideal brunch meetup. Its stylish decor, both inside and on the patio, is the perfect backdrop for a relaxed brunch with a group of friends or some family members. TR Fire Grill takes classic brunch items like the sangria and eggs benedict and effortlessly gives it a jolt of modern sophistication. It's the high life, without the high price.
ADDRESS: 1035 N. Orlando Ave., Suite 101, Winter Park, Fla.
PHONE: 407-708-3600
WEBSITE: www.TRFireGrill.com
PARKING: Private lot
RESERVATIONS: Official website, call ahead, OpenTable
AVERAGE WAIT TIME: Brunch is new here, so waits are uncommon
ALCOHOL: Full bar, wine by glass and bottle, beer, cocktails
SERVING TYPE: Menu
OUTDOOR SEATING: Yes
CAFFEINE: Coffee, tea, cappuccino, espresso
VEGETARIAN/VEGAN: Vegetarian-friendly
NON-BREAKFAST ITEMS: Yes
DOG-FRIENDLY: Yes