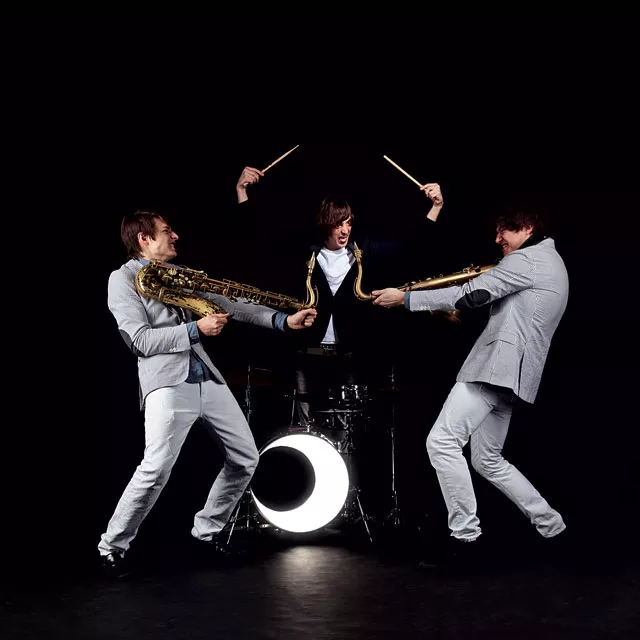 MOON HOOCH with Lotus
8 p.m. Thursday, Feb. 21
The Beacham, 46 N. Orange Ave.
407-246-1419
thebeacham.com
$20-$25
The Moon Hooch Album starts with a warning: "Ladies and gentlemen, the next L-train is now arriving on the Manhattan-bound track," a woman instructs in an echo. "Please stand away from the platform edge." True to her word, the sound of a train rushing forward follows, and seconds later, Moon Hooch's slinky saxophone sound comes to life.
It's a pitch-perfect beginning for the 2011 inaugural LP from a Brooklyn trio who is dedicated to busking near where the train announcer repeats herself. "We started playing mostly in the subway. It wasn't until about a year in where we started really bringing it to the parks," saxophonist Mike Wilbur says. "When you're standing on the subway platform for six to 11 hours, you hear that [message] hundreds of times. If we were going to put a sample [on the record], it's a pretty logical sample."
Wilbur, saxophonist Wenzl McGowen and drummer James Muschler come from disparate sites of origin – Massachusetts, Europe, Ohio, respectively – and all arrived in New York City a few years back to attend the New School university. Before launching Moon Hooch in summer 2010, the three weren't particularly close. On the contrary, Wilbur and McGowen, who initially played together in a John Coltrane ensemble audition and had come to know each other in passing, had a rivalry simmering. In Wilbur's words, they had "a cliché power struggle between two tenor saxophonists" upon first meeting.
"It definitely wasn't a positive relationship in our own minds towards each other," he says. "Over the past two years, we've been really working on ourselves and being able to handle situations together in a positive way." Presumably this therapy includes capitalizing on and balancing each instrumentalist's strengths: McGowen values pragmatic, controlled song construction while Wilbur prefers improv and unchecked energy, resulting in "this kind of symbiotic, controlled passion."
The 20-somethings call their work "cave music" – something comparable to house music but "more wild, more jagged, more free, more natural to live in." It's colorful and satisfyingly upbeat stuff with a lively spirit that could easily appeal to drum & bass or jam-band-leaning crowds, attractive to accomplished musicians and also just as something pleasant to sweat to.
Moon Hooch's recipe is fantastical, but not so fantastical that it can't appeal to the average ear. This explains their great success with playing to strangers: Busking has resulted in strangers dropping off their business cards, a national tour with singer-songwriter and ex-Soul Coughing leader Mike Doughty after he caught them at Union Square Station, and popular Australian comedians Hamish & Andy inviting the group to appear as "the Busketeers" on the duo's TV show Gap Year when they filmed in NYC.
Although the band is doing national runs with Lotus and They Might Be Giants and assembling a more electronic-oriented record (Wilbur describes it as a "nonstop dance party with seamless transitions and fast-changing sections"), busking remains a top priority for Moon Hooch whenever they're home.
"We're all completely strapped for cash. I'm really being crushed by student loan debt right now, and I'll do whatever I have to to make money at this point," Wilbur says, lightheartedly clarifying that "whatever I have to" shouldn't be taken too literally. "You gotta keep busking. It makes good money. It's the best gig in town for us right now."