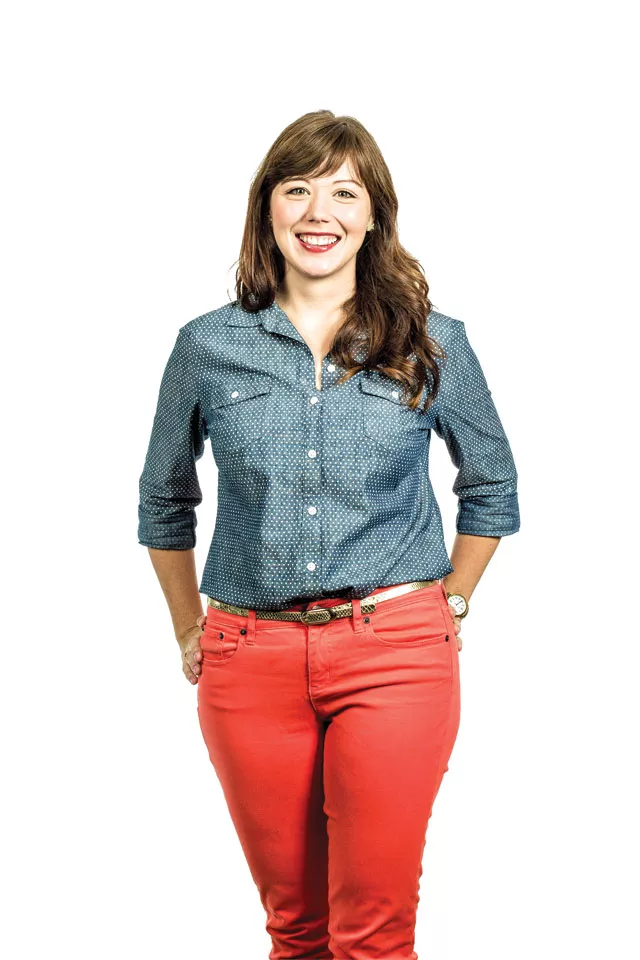 Lauren Bradshaw's whimsical menagerie of animal friends – Henry the Fox and his pals – hit that crucial balance between sweet huggability and pristine construction. They're not so much a toy you'd put in the crib with a baby, more something you'd put on a shelf as decor; but once baby grows up, "they're good tea-party size," Bradshaw says. "And they sit up well."
The brand's twee, cottagey feel is the yin to the yang of Bradshaw's business acumen; Walnut Animal Society grew out of the astute realization that her first handmade products, needle-felted birds and cake toppers, required too much of her time (and her own hands) to ever be a scalable business, whereas a stuffed animal could be sewn by others and still retain her personal stamp.
Their almost immediate success took the fledgling company by surprise, and they're ramping up efforts to meet the demands of their first full holiday season. "I just learned that retailers and magazines start to think about Christmas in July," Bradshaw says, laughing. "I don't want to jinx it, but …" – here she drops the name of a national clothing and housewares retailer known to weaken the knees and wallets of women who appreciate all things vintagey/boho/handmade – "just placed an order for October. So we're ordering fabric in larger and larger quantities, trying to get ready for that." They've bought up all the orange wool – two different shades – their fabric supplier makes in the last few months, and Bradshaw is looking forward to the day that she's using enough to be able to order a custom dye lot.
FOUNDED: December 2011
FIRST PIECE MADE: Henry the Fox
"I was looking and looking online for a fox stuffed animal for my son, or even a pattern for one." Bradshaw realized if no one else was doing it, maybe she should. Designing the pattern "was way harder than I imagined – it kept me up at night. I would just go to sleep trying to figure it out in my head."
TRAINED OR SELF-TAUGHT?
"I loved to sew when I was little. I've been crafting and sewing my whole life … [but] I majored in business at UCF."
DAY JOB:
Bradshaw used to work at Full Sail University, but quit shortly after having her son. She knew she wanted to build a business out of handmade, something she could do at home.
TIME SPENT EACH WEEK:
Close to 30 hours per week, mostly "while [my son] is asleep … during naps, at night."
EMPLOYEES: Bradshaw farms out sewing assignments to "a few local ladies" and has a business partner-investor.
SOLD: on their website, and at eight or nine retail shops: "A couple in New York, one in California, and in Hong Kong, Australia
and Korea."
With their exquisite detailing – not to mention the $98 price point – these aren't impulse purchases, but usually "special gifts … for first-time parents, new babies, unique shower gifts." But Bradshaw was surprised to see, in February, adults buying them for each other for Valentine's Day; their long skinny arms and nostalgic floppy feel appeal to a certain kind of grownup. "Learning moment," she says.
INDISPENSABLE TOOL:
Sewing machine, obviously, but also "my handy gigantic stuffing machine. … I used to spend 45 minutes hand-stuffing an animal – now it takes about two minutes. It's crazy, the amount of efficiency that gained us."
A-HA MOMENT:
Joy Cho, of dominating grownup-cute blog Oh Joy (ohjoy.blogs.com) "put us on her site the first day we launched." Then, in June, design-oriented flash-sale site "Fab.com approached us … we had in our business plan to try to get a Fab sale after our first year."
LOCAL MAKER SHOUT-OUT:
Anna Bond (Rifle Paper Co.) is a close friend and mentor. "She's so encouraging, and I'm always learning from her."