It was round about the time the president of the United States took a break from his routine of tweet-quoting sycophants on his favorite propaganda network and ranting about witch hunts to blurt out "Space Force all the way!" that I realized the tragedy of American politics had fully descended into farce. Or maybe it's the other way around. At this point, who the hell can keep up?
The idea that we are going to spend billions upon billions of dollars – much of which will be funneled to defense contractors, of course – to create a sixth military branch that no one asked for and no one really wants to do things the government already does is as asinine as it sounds, especially when Flint, Michigan, doesn't have clean water, thousands of Puerto Ricans still don't have power and the feds can't figure out how to reconnect hundreds of the migrant children it kidnapped to their parents, not to mention the hundreds of billions of dollars last year's round of tax cuts for the wealthy added to the deficit.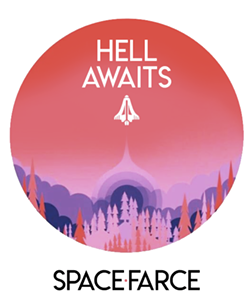 Trump's re-election team wasted no time trying to raise funds off the Space Force announcement, asking supporters to help pick a logo for campaign merch – in case you needed a reminder of $ what $ this $ thing $ was really all about.
Farce, right? Or tragedy?
How would you classify the rampant corruption on display last week, from the trial of the patently sleazy Paul Manafort; to the case of congressman (and early Trump backer) Chris Collins, who was indicted for insider trading; to Commerce Secretary Wilbur Ross, who may have stolen $120 million from his partners and customers, according to Forbes; to ProPublica's report that three Trump cronies and Mar-a-Lago members, none of whom are government officials, are actually controlling the Department of Veterans Affairs "in ways that could benefit their private interests"?
What about the president's continuing condemnation of NFL players protesting state violence against African Americans even as thousands of his white nationalist allies (in Trump's words, "very fine people") prepared to descend on Virginia and Washington, D.C., to mark the one-year anniversary of a rally that claimed the life of an anti-racism demonstrator? Or the fact that his most prominent black friend revealed that, behind the scenes on his reality show, he used to toss out the N-word? Or that his in-laws became citizens after they gained legal status in the U.S. using so-called "chain migration," which he's spent the last year railing against?
What about Trump's refusal to speak to Special Counsel Robert Mueller regarding his possible obstruction of the Russia investigation unless Mueller agrees not to ask him anything about obstruction, or his alleged request that James Comey go easy on Michael Flynn, because otherwise it would be a "perjury trap"? (Perjury traps are a real thing, to be sure, as is prosecutorial overreach. But there's no evidence that's happening here, and plenty of evidence Trump's lawyers are simply terrified he'll lie his ass off, because he lies compulsively.)
All of that happened last week.
Last.
Week.
Again: tragedy or farce? Or have we simply entered the dumbest timeline?
It's not just Trump, either, though he's certainly brought out the worst in us.
The same day Trump caught Starship Troopers on basic cable and decided to reorient the Pentagon to match it – OK, maybe it wasn't that impulsive, but his original Space Force announcement in June did catch the military brass entirely unaware – Stormy Daniels' attorney was in Iowa telling reporters he was considering running for president, because sure, why not? And while a few years ago you safely could roll your eyes at Michael Avenatti and presume he had no chance in hell of winning the Democratic nomination, let alone the Oval Office, well, have you seen the chump in there now?
And then there's U.S. Rep. Devin Nunes, the man who is supposed to be leading the House Intelligence Committee's probe of Russian interference into American elections, who was caught on tape essentially admitting that his main priority was running interference for the White House to preserve political power – something anybody with half a brain already knew, but still rather startling to hear. After that recording became public last week, Speaker Paul Ryan didn't strip Nunes of his chairmanship of the Intelligence Committee, because nothing matters.
Politics is farce. The results are tragic.
You could look to the climate-change-fueled fires consuming Southern California or the suffocating heat waves boiling Europe (where temperatures reached 90 degrees as far north as the Arctic Circle last month) to see where willful ignorance, denial of science and subservience to polluting industries gets us. Indeed, even with the abundant evidence staring us in the face, the Trump administration has rolled back not only initiatives to combat climate change (including fuel economy standards, which save consumers money) but even to keep the air and water clean. For good measure, Trump's EPA is even letting fucking asbestos back into the U.S. market!
But you don't need to look that far away. Look instead at the toxic algae bloom devastating Florida wildlife and putting trillions of dollars of economic activity in South Florida at risk, a result of climate change, overdevelopment and nutrient pollution from agricultural runoff.
Years ago, the Obama administration's EPA tried to at least begin to rein in sewage, manure and fertilizer runoff; Gov. Rick Scott fought back – successfully, though that doesn't seem the right word, given the circumstances – complaining about "onerous regulation." For decades, the ruling class in Tallahassee has been in thrall to Big Sugar, which pollutes Lake Okeechobee, whose polluted waters are later dumped into delicate ecosystems and into farms and cities throughout South Florida.
This is the mess we've made.
Tragedy, farce, whatever. Wake me up when it's over.