Greater Orlando, you may have noticed, is a community that's not big on the concept of walking neighborhoods. Strip malls, sure, and other loosely connected asphalt playgrounds you'll have to spend serious time behind a steering wheel to experience properly. But if you're looking for an expanse of even a few blocks in which you can spend a day shopping, eating and patronizing the arts – all without moving the car – then your options are sorely few.
One of the best exceptions is the quaintly bohemian district – including but not limited to the so-called Ivanhoe Row – that begins at the intersection of Orange and Magnolia avenues and ends roughly where Orange meets Princeton Street. Thanks to the incorporation of certain pedestrian-friendly features (i.e., sidewalks!), you can lock up your chariot and sally forth for an entire day's worth of amusement – self- and otherwise – with the damage to your Adidas the only negative aftereffect.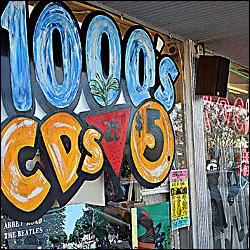 The area is predominantly known as an antiquer's paradise, and with good reason. Upon stepping into a richly equipped, multiroom museum of recovered furnishings like Flo's Attic (1800 N. Orange Ave., 407-895-1800), you'll be instantly reconnected with the glory days of living rooms past. Flo's is just one of the deeply romantic treasure troves that line both sides of the street; with the proper investment of time and a little luck, you can outfit a small apartment with oaken assets. (If you do score that big and that often, just think of the great exercise you'll get hauling so much crap back to the car.)
When the siren song of newness can't be ignored any longer, stroll the aisles of Saxon-Clark Home Furnishings & Interior Design (2021 N. Orange Ave., 407-894-9297), which are so thick with upholstered inventory and green foliage that a resourceful soul could probably live there clandestinely for a week before the staff caught on. I haven't tried it myself, but I'm eager to hear your report when you do.
You could use a break, so plot the remainder of your day over lunch at Brian's Restaurant (1409 N. Orange Ave., 407-896-9912), where the portions are healthy and the grilled delicacies are brought to your table with old-fashioned lunch-counter politesse. Your strength regained and your little excursionary army once again traveling on its stomach, take a gander at the selection of wartime commemoratives on offer at American Antiques and Militaria (1807 N. Orange Ave., 407-897-5492) – just look for the plane sticking out of the building. Kids who grew up playing with Stretch Armstrong instead of G.I. Joe will be in clover at Boom-Art by Rogers Studio (1821 N. Orange Ave., 407-895-0280); owners Glenn and Sandy Rogers indulge their penchant for covering furniture and other practical pieces with brightly colored portraits of the leading lights in pop culture, from Superman to the Fonz. They'll also be happy to tell you about their 15-year stint working as clowns for the Ringling Bros. and Barnum & Bailey Circus. Because what's a day out without a good story?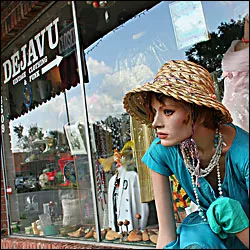 You're always good for a pleasant chin-wagging at Deja Vu Vintage Clothing & Accessories (1825 N. Orange Ave., 407-898-3609), where the loquacious ebullience of owner Red Robin – no surname necessary, thanks – is as much a neighborhood fixture as the store's selection of rescued threads (some of them now rentable, for the disco party you can't miss). From Robin to rockin', it's a short sock hop across the street to Rock 'n' Roll Heaven (1814 N. Orange Ave., 407-896-1952;
www.rock-n-rollheaven.com
), a perpetual invitation to wallow in the glories of vinyl, or just hunt down that issue of
Circus
magazine with Alice Cooper on the cover that you've never forgiven Mom for pitching.
Nightfall brings its own set of choices. You can chart a northward course, stopping off for dinner at the White Wolf Cafe (1829 N. Orange Ave., 407-895-5590;
www.whitewolfcafe.com
) – taking advantage of patio seating that seals the allure of a menu that runs from tasty hummus to full entrees – and then take in a show at Theatre Downtown (2113 N. Orange Ave., 407-841-0083;
theatredowntown.net
), home to heartfelt dramatics that fit the neighborhood's charisma to a tee. Or if there happens to be an opera or dance performance going on at the Dr. Phillips Center for Performing Arts (1111 N. Orange Ave., 407-426-1700), your southwardly trajectory begs a before- or aftershow visit to Wilfredo's Italian Restaurant (1421 N. Orange Ave., 407-228-0300), known for its intimate atmosphere and slow-cooked sauces. Finish the night with a cocktail or two at Lava Lounge & Cafe (1235 N. Orange Ave., 407-895-9790), the stylish social nexus point whose appeal is hardly limited to its gay core constituency.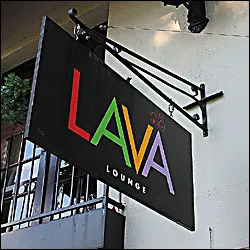 Exhausted and happy, you only have a few more blocks to go to reach your car and officially call it a day. Come on, you can make it; some New Yorkers walk this far just to use the john. And the thought of all the gas money and road rage you've spared yourself will keep you feeling fat and sassy on the drive home.
You did lock it, didn't you?