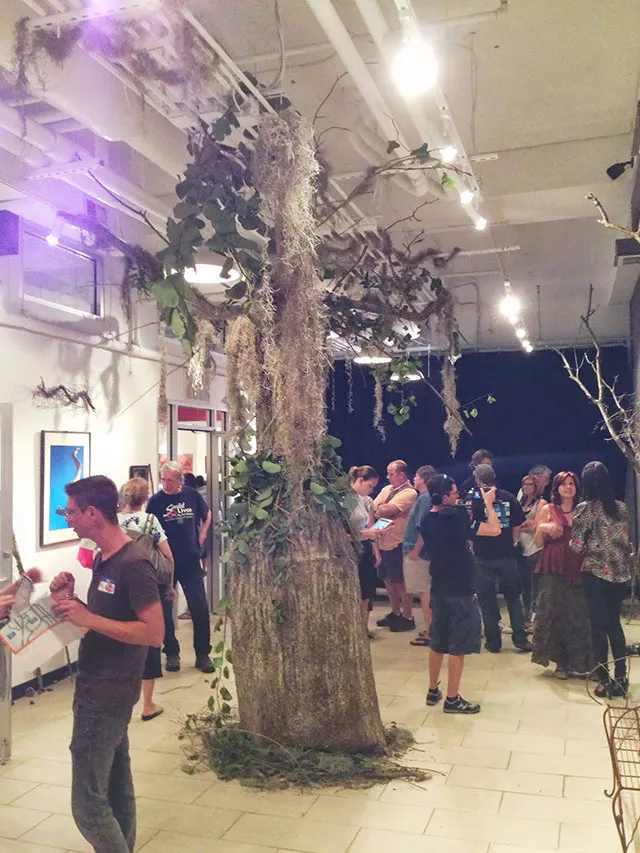 What does an artist really need to thrive, or at least survive, in this town? It's an ageless question without easy answers, but some in Orlando are starting to share solutions in a bold new way.
Recently, I was invited by local artist/activist Brendan O'Connor to participate in the first seminar of a series he's calling "The Artist's Survival Guide" at Urban ReThink. I readily agreed, since I've admired O'Connor's work with ArtReach in Bithlo and the Cardboard Art Festival. But when I learned I'd be sitting on a panel with luminaries like Orange County Arts and Cultural Affairs director Terry Olson and United Arts CEO Flora Maria Garcia, I rapidly realized I was out of my league. Luckily, my editor, Jessica Bryce Young, stepped in to replace me as Orlando Weekly's representative on last Wednesday's panel, so I could take my rightful place in the peanut gallery with an intimate but enthusiastic audience that included arts community icons like Frankie "Apartment E" Messina and Thomas "Analog Artist Digital World" Thorspecken.
Joining Olson, Garcia and Young on the panel were Devin Dominguez, development director for Maitland's Art & History Museums, and the irrepressible Donna Dowless, Downtown Arts District chair and Orlando's official "Ambassador of Love" (yes, that's an actual title in this town). All the participants had something to say on the subject at hand – especially Dowless, who proudly proclaimed, "I am the arts," and practically dared moderator O'Connor to constrain her – but I found Garcia's insights as a relative newcomer to the area most interesting.
While she praised Orlando's "hugely creative and exciting" community, she observed that it sometimes "feels insecure in the shadow of the theme parks," and noted that public-sector funding makes up an unusually large percentage of most local arts organizations. That's not because public spending on art is particularly high (Orange County only spends about $4 per capita annually on the arts, according to Olson) but because private financial support is shockingly low compared to similar cities. Part of the problem, says Garcia, is that Orlando has a "transient" (her word) population that doesn't consider Orlando home and often invests donation dollars back in their state of origin.
From the artist's perspective, it doesn't help that educational institutions do little to prepare students for the realities of professional life. Hopefully, this continuing series (which will be transcribed and compiled into a book to be published by Burrow Press) will start showing artists in practical terms how to take advantage of the resources that are available; a list of local galleries and alternative exhibition spaces was distributed to attendees as a fine first step. In the meantime, Dowless urged all to remember that "'NO' is just the beginning," recalling that downtown's Third Thursday art crawl began with only 25 patrons, and has since ballooned to more than 2,500.
Of course, it's one thing to talk the talk, but another to walk the walk. So, thus inspired, I took my first stroll in several months through the following evening's Third Thursday Gallery Hop downtown. I was drawn to the crowded CityArts Factory by the intriguing promotional announcement for Into the Woods, an installation by Deborah Knispel that promised a forest-like setting: "The Orlando Magic Gallery at CityArts Factory has been transformed into an indoor forest set with arching entwined trees, vines, moss, as well as the sounds and scents of the forest for a fully immersive experience. The only thing missing is the heat and mosquitoes."
I was hoping for something like Tamara Marke-Lares' richly textured Macabre Vignettes. What I found inside CityArts' Orlando Magic Gallery was a naturalistic ceiling-high sculpture of a tree trunk, hung with apparently authentic Spanish moss and surrounded by framed nature photographs. What I didn't find were any sounds (boom-box speakers on the snack table were silent), smells (the small bowl of odor-free potpourri looked like it might have been an appetizer) or appropriately theatrical lighting (fluorescents and flora don't mix). Which brings us to artists' survival tip No. 1: The excellence of individual elements is irrelevant if you don't have an eye for the overall experience; otherwise you're missing the forest for the trees.
Next, I paid my first visit to the Gallery at Avalon Island since Patrick Greene was installed as gallery director. Florida Overtures, Undertones, and Subplots (at the gallery through Sept. 14) integrates diverse media from a dozen very different artists into an organically unified show, smartly supplemented with thoughtful explanatory text, making this more than just another assortment of Sunshine State sketches and snapshots. Maybe what Orlando's arts scene really needs to survive is more skillful curators – a word frequently flung around with far too little appreciation for its importance – like Greene, who know how to take the talent-rich parts floating though town and turn them into a more satisfying whole.