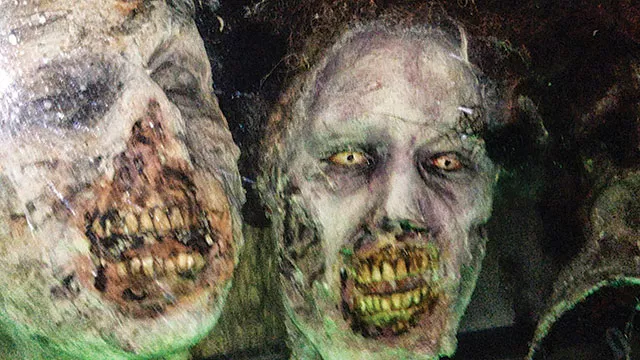 The 23rd annual Halloween Horror Nights opened last Friday, Sept. 20, just hours after our press deadline for this issue, but luckily Universal Orlando's creative team pulled back the curtain for me early at a media preview. Here's a sneak peek at the park's eight haunted houses direct from writer-director Mike Aiello and the rest of the HHN designers, to give you an idea of what you'll get for your $92 ticket (significantly cheaper with advance resident discounts) other than a hangover from the ubiquitous alcohol.
Afterlife: Death's Vengeance
HHN always features a black-light 3-D maze (like Penn & Teller's take on Las Vegas last year), but this one is less satirical and more macabre. Follow 1930s serial killer Bobby the Blade from his electrifying execution to the depths of hell, where his victims await to exact revenge. Boozers: Beware the sickening "vortex" tunnel!
Havoc 2: Derailed
2010's popular psycho skinhead super-soldiers return to wreak destruction on a transport train. Halfway through, the train derails, leaving you to escape the wreckage strewn through a small town in what Aiello calls a "really energized and very violent maze" with an epic scale. The scareactors in this house – men and women – actually shave their heads for their roles.
Urban Legends: La Llorona
This haunt was imported from last year's HHN at Universal Studios Hollywood. It tells the Mexican folk tale of the weeping woman who murdered her children for unrequited love and drowned herself, condemning her to wander the earth forever. If you caught the West Coast version, this remake revises the second half, replacing the rustic barn environments with a gorgeous underwater world that Aiello claims crowns it as HHN's new "maze to beat" for aesthetic detail, dethroning 2011's Nevermore.
Cabin in the Woods
As a longtime Buffy the Vampire Slayer fan, I loved this 2012 postmodern monster-mash movie from Joss Whedon and Drew Goddard, and Goddard himself consulted closely on HHN's haunterpretation. Guests are cast as low-level employees of the satanic bureaucracy behind the titular cabin (as explained in custom queue and mid-maze videos) and witness the carnage unleashed by the "purge button" up close, including a full-scale replica of the creature-infested elevator lobby.
Evil Dead
I was apprehensive about the recent remake of Sam Raimi's 1981 zero-budget classic, but it turned out to be bloody good fun, so I'm giving this maze the benefit of the doubt that it won't be one woodsy cabin too many. Vomit, self-mutilation, "gross water and goo" and a climactic blood rain are all on the menu, and some scareactors will wear prosthetic makeup and contact lenses (a rarity at the mask-heavy event).
Resident Evil: Escape From Raccoon City
Old-school Playstation gamers rejoice: You can finally flee the Umbrella-infected undead in the streets of Capcom's unluckiest burg. Lickers, Alphas and Nemeses battle the Raccoon Police Department in scenes ripped straight from the video games; look out for the unique "pause screen" room with Leon Kennedy and a Tyrant frozen in midair combat.
An American Werewolf In London
HHN's creators have been talking about doing an AWIL haunt for five or six years, so expectations are high. Director John Landis (who is scheduled to attend opening night) reportedly had intensive input on this maze's development, pushing for werewolf puppets worthy of Rick Baker's Oscar-winning creations. More importantly, scenic designer David Hughes assured me the maze will visit the infamous Piccadilly Circus movie theater, though he was coy on whether the in-joke porno See You Next Wednesday will be screening inside.
The Walking Dead: No Safe Haven
If AMC's ratings are an indication, this should be the most crowded attraction at the event. I'm happy to report that it's a huge improvement over last year's lackluster TWD maze; I liked the interactive touches, like areas where you must crouch down or pick between different paths amid the gut-munching gruesomeness.
Outside the houses, you'll find the perennial Bill & Ted's Excellent Halloween Adventure spoof show (featuring potshots at Django Unchained) and a resurrected Rocky Horror Picture Show musical tribute. Better yet, following a scarezone-free 2012, the street experience returns with a Walking Dead theme; you'll find the Atlanta tank outside the Mummy ride and Dale's RV near the new Simpsons street. And watch out for surprises like an "opening scaremony" each evening as the gates open and a chainsaw-wielding drill team terrorizes "safe" areas like attraction queues.