The front part of Hopkins Meat Packaging in Sanford looks like a combination of a neighborhood butcher from decades past and a small country store. Men in bloody white aprons weigh meat. A dark-haired woman with a Southern drawl piles several pounds of ground chuck into her faded red plastic cart. Oxtails are $3.79 a pound, while a large box of neck bones – good for soup – is just $18.90. Gallon jars of pickled eggs and pigs' feet are stacked high. Cowhides sell for $300.
In the back, the processing plant, the slaughterhouse kill floor is still damp from a recent hose-down. A large door through which cattle are herded into the U.S. Department of Agriculture–approved plant is shuttered. The meat hooks above are empty, but the large freezer next door is packed with the bright-pink carcasses of more than a dozen cattle and a few hogs, hanging by their hindquarters from the ceiling. Small pools of blood have formed below each of the skinned animals.
In 2006, Americans ate 4.3 billion pounds of fresh beef, worth $15.3 billion, putting the country behind only beef-hungry Argentina and Uruguay in per capita consumption. Though it has a reputation as a tourist haven and a place where development has gobbled up most of the open space, Florida actually contributes a lot of that beef to the national table. The state ranks No. 12 in cattle raised for meat, producing 1.7 million calves annually.
Florida is largely considered a cow/calf state, where herds of feeder calves are raised before being weaned, then shipped north to mature and be slaughtered and processed. More than 750,000 cows are shipped from Florida annually. The top three cattle counties are Osceola, Polk and Okeechobee.
"There is very little processing and no significant commercial finishing plants," says Jim Handley, executive vice president of the Florida Cattlemen's Association, headquartered in Kissimmee. "But there is a fairly significant industry here. Most people don't know about that."
That puts the Sunshine State squarely in the middle of the controversy over the safety of the meat supply. A growing number of people – many of them doctors and scientists – question whether American beef is safe from bovine spongiform encephalopathy, commonly known as BSE or mad cow disease. Little testing and lenient feed regulations mean no one can answer the question for sure.
Though the federal government has slowly tightened restrictions on what goes in animal feed and what types of animal parts are safe to eat, some experts still believe there are too many loopholes to say for sure that meat is safe to eat.
"We don't want to know," says Dr. Ronnie Hawkins, a medical doctor and bioethicist at the University of Central Florida. "We don't want to admit that we have a problem."
...
BSE, first discovered in Britain in 1986, is a deadly degenerative neurological cattle disease prompted by an accumulation of misfolded proteins (called prions) that build up in the central nervous system. The human form of the disease, which is incurable and believed to be transmitted by eating meat from animals infected with BSE, is called variant Creutzfeldt-Jakob Disease, or vCJD. It has a lengthy incubation period, estimated to be about 12 years, which means that it would take a long time for an outbreak to become apparent. Scientists are uncertain whether the fatal disease could be transmitted from a single serving of BSE-infected meat, or whether the damage accumulates over time.
Hawkins, a thin, gray-haired woman who becomes outraged when she speaks about BSE, has spent most of her spare time during her last 14 years at UCF urging people to be aware of what they're eating. She believes that feed practices are putting American meat consumers at risk.
"The American public is being treated like a giant waste-disposal system," she says. "And still no one wants to do anything about it or talk about it. I find it shocking."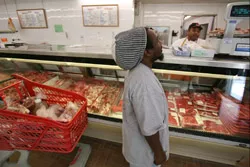 She's referring to the practice of feeding leftover animal parts to other animals, which is controversial for animals that are normally herbivores, such as cows. Feeding ground-up cow parts to other cows is the reason BSE spread so quickly in Britain in the '80s and '90s. The practice has since been banned, and is banned here, but that doesn't mean American cows are fed only plants.
While ruminant-to-ruminant feeding is banned, there is no rule about feeding pig and chicken leftovers to cattle, feeding cow parts to hogs, and so on. Cows are still fed bovine blood, manure and chicken litter that can include cow brains and other slaughterhouse waste.
"The process of recycling animals allows it to build up in the system," Hawkins says, noting that less than 1 percent of all cattle in this country are tested for BSE. "Britain and other industrialized countries broke the process of feeding ruminants back to other animals. You have to break that cycle. We haven't done
that here."
Other organizations seem to take vCJD much more seriously than the government, Hawkins says. The American Red Cross, for example, routinely asks donors if they have lived in the United Kingdom or other European countries between 1980 and 1996, or had a blood transfusion there within the last 28 years. Answering yes to those questions means you can't donate blood.
"It's like we want to cover it up, that we don't know about it and it's not happening," Hawkins says. "It's completely unethical. People don't want to believe that the government lies. I'd love to be wrong. I don't think that's the case."
About 200 cases of vCJD have been reported worldwide; most are in the U.K. Only three have been reported in the United States. Doctors say Charlene Singh, of Fort Lauderdale, contracted the disease in Britain, where she lived until she was 13. She died in 2004.
Unlike the United Kingdom, which quickly stepped up surveillance, the United States has been slow to act. The U.S. Food and Drug Administration sent a team to the U.K. to study the disease in 1987, and banned the importation of ruminant animals, meat and bone meal from countries that had reported BSE cases. But the FDA waited until 1997 to ban ruminant products in livestock feed. The same year, the USDA banned importing live ruminants or high-risk ruminant products from Europe, including numerous countries that had never seen mad cow cases.
By December 2003, the USDA announced the first case of BSE in the United States – in a cow imported from Canada. Just days later, Japan stopped importing American beef, costing the U.S. beef industry $1 billion. (Japan lifted the ban in 2005, but reinstated it months later when a vertebral column was found in a shipment of veal. The ban was later lifted again.)
Testing in the United States was stepped up at the beginning of 2004, peaking in 2006 at one-tenth of 1 percent of the country's 42 million adult cattle. USDA officials announced a plan in January 2004 to ban the processing of non-ambulatory cattle (known as "downer"
cows) and the human consumption of "specified risk materials" such as brains, spinal cords, intestines, eyes and tonsils, though it only applies to animals over the age of 30 months. Meanwhile the FDA proposed banning the same materials from animal feed, but the ban was never enacted because it wouldn't have been cost-efficient to dispose of the large amount of potentially infectious material. (Of an average 500-pound cow, the specified high-risk materials would weigh about 88 pounds.)
After the tighter feed regulations were proposed but never put into place, the Consumers Union, an independent, nonprofit organization that fights for a safe consumer marketplace, called the move a public relations ploy.
"Even the weak rules `that were already in place` haven't been applied well," says Dr. Michael Hansen, a senior scientist with the New York–based Consumers Union. "There are millions of pounds of prohibited materials still in cattle feed."
The FDA has reported widespread violations of the policy against using brains and spinal cords from cows over 30 months of age for consumption by either humans or animals. In April 2004, it announced that 91 companies had violated feed-ban regulations in the preceding five months; 80 were considered major violations, such as allowing ruminant feed to be contaminated with prohibited materials. In January 2008, the FDA reported 162 violations, all of them minor.
Hansen suggests that people be mindful of what they are eating. There is no risk from organic grass-fed beef, he notes, and the risk is lower when eating muscle cuts. But central nervous system tissue or ground meat (often combined from numerous animals) is high-risk. "You should know the risks and eat with your eyes open," he says. "We've had cases here, and we're not taking the risk as seriously as we should."
Last month, the USDA again pledged to prohibit downer cattle from entering the food chain. Though previously banned, just over two years ago an exception was added to allow government veterinarians to approve downer animals for slaughter in certain cases where the beef was determined to be safe, such as for an animal with broken legs. The new ban would end the exception. The effort came following revelations in January that a California packing plant had been poking cattle in the eyes with sticks, electrocuting them, and pushing and running over them with forklifts in an effort to get sickly cows to walk to slaughter.
The FDA, too, is again proposing an end to the feeding of slaughterhouse waste from pigs and chickens to cows by April 2009. Hansen is skeptical it will be enacted.
Two additional BSE cases were discovered, one in Texas in 2005 and one in Alabama in 2006, but by then the USDA had already slowed testing. The number of tests it conducted on deceased cattle peaked in March 2005 with 48,794 nationwide tests that month, representing only one-tenth of 1 percent of the total population. That already-low number quickly dwindled even further and in September 2006, only 18 months later, 1,792 tests were conducted. In May 2008, 1,179 cattle were tested.
UCF professor Dr. Ronnie Hawkins
"I knew it would be an issue 20 years ago," Hansen says. "We predicted it was only a matter of time before cases were found in the U.S."
Dr. Michael Greger, director of public health and animal agriculture for the Humane Society of the United States, agrees, pointing out the obvious: The disease can be spread among cattle through blood products they are fed.
"The most glaring concern is that they have not addressed continuing to feed calves spray-dried cattle blood protein," Greger says. "At the time they did not know that blood was infectious, but we know that now, and it's continued to be fed to calves in this country. That would be done in no other country. There's just no excuse. Livestock should not be fed blood, waste and manure."
Yet the United States has only had three diagnosed cases of BSE, while Canada, for example, has had 12. Greger says that's actually because Canada has stricter regulations and is more likely to find the problem, due to more extensive testing. Canadian farmers have a financial incentive to report suspicious cattle; the government pays them the value of
suspect animals.
"Here, it's almost a reverse situation," he says. "No rancher wants to be the cause of beef `prices` plummeting. It's a 'shoot, shovel and shut up' mentality. `Canada` has stricter regulations and fewer cattle. Why are they finding all of the cases? `The public` should be concerned."
Some companies -– Kansas-based Creekstone Farms Premium Beef is one – have expressed interest in voluntary "more comprehensive" testing of cows. Creekstone sued the federal government for the right to privately test all of its cattle as a way of assuring its international customers, largely those in Japan. It won, but the USDA appealed the case last month, arguing more testing wouldn't guarantee food safety. Greger says that's laughable.
"It gives a sense of the 'don't look, don't tell' policy of the USDA. If another case comes out we wouldn't get back the $4 billion Asian market. The president of South Korea says one more case and he would close the gates for good."
...
Last year the USDA tested just 40,000 cattle. Karen Eggert, a spokeswoman for the USDA Animal and Plant Health Inspection Services, says the amount tested by the government is 10 times greater than what the World Organization for Animal Health requires.
"We now try to test as many cattle as possible," Eggert says. "We're really not finding the disease. We're sampling high-risk populations and even looking in those, we're not finding it." (Japan and the European Union test all cattle, which at $25 per animal amounts to pennies on the pound. Consumers there don't mind the slightly higher prices for the added safety.)
High-risk populations include downer cows, cattle that are emaciated or have nervous disorders, or older cattle, since cows over the age of 30 months are believed to be the most susceptible. She says the United States doesn't need to conduct surveillance on the majority of cattle here because the risk is kept low by preventive actions such as feed bans, slaughterhouse inspections and alert veterinarians.
"The U.K. is different," she says. "They have a high risk for BSE and a very high surveillance rate, but they have an actual BSE situation. We have measures to prevent this from becoming established. For an infected cow to be imported and processed, there is a chain of events where every risk measure has failed or been breached. That's highly unlikely."
...
Back at the family-owned Sanford plant, 500 pounds of freshly made sausage hang from metal racks, and a man is grinding some of the beef into hamburger chuck. Small scraps of ground beef are scattered across the floor.
No one here is talking about BSE. They're just thinking about added regulations and the small office that was built to house a federal inspector at the plant.
"These regulations are putting people out of business," says one manager. His aging facility is one of only two dozen USDA-approved plants left in the state. He sometimes wonders why they bothered to double the size of the kill floor 10 years ago. Soon the market might not be there to support it.
dmorey@orlandoweekly.com