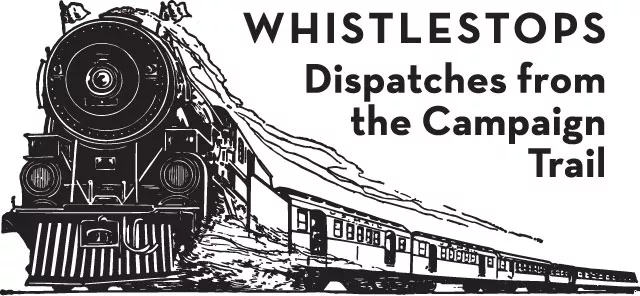 It's an apparent battle of the sexes in two of the state's most hotly contested legislative races, with the old guard (the men) taking serious heat from their more progressive female opponents. Beneath the obvious binary nature of the campaign battles, though, lies something more important to Florida's perceived – and maligned – character. Can the Republican bait-and-switch of economic issues for social issues withstand a viable challenge? That's up to you and, presumably, God.
Florida House District 30: Karen Castor Dentel vs. Scott Plakon
From the beginning, it was clear that the awkward musical chairs of redistricting would make reelection difficult for veteran social-issues crusader Scott Plakon, R-Longwood. A geographical shift south into Altamonte and into HD-30 managed to save him from a primary fight with longtime friend (and possible future House Speaker) state Rep. Chris Dorworth, R-Lake Mary, but that deal with the devil also meant that Plakon would be faced with a more moderate – if not liberal – district; this for a man who has, in four years, never had a general election challenge.
"It's got to be karma," he says, half-jokingly.
Plakon, who has built his political capital upon a history of crusades against abortion rights and sundry other liberal causes, has been forced to the blander plateaus of the middle ground, touting his "across-the-aisle" bona fides in lieu of pulpit-ready treatises against rampant liberalism. He's the man behind Amendment 8's volley to allow public funding of religious institutions, after all, and he's still willing to "swear on his electronic Bible" (an iPhone app) when such duty calls. But he wants voters to know he's more than that.
"Most people would agree that I'm an effective legislator," he says. "I don't know how anybody would say that I haven't worked across the line."
As examples, Plakon points to a new anti-stalking bill (in effect since Oct. 1) and a bill streamlining of the Florida Department of Business and Professional Regulation – not exactly the hot-buttons he's become accustomed to. "Jobs and the economy, how we get people back to work, that's what people are interested in talking about," Plakon says.
That kind of political gamesmanship doesn't sit well with Maitland teacher Karen Castor Dentel. The Democratic daughter of former state Sen. Betty Castor, D-Tampa, has taken to the airwaves to denounce Plakon's "crazy" extremism just as he attempts to shield himself from it. Though she's a moderate – "I'm not anti-Republican," she says – Dentel's ringing liberal bells with her denunciation of Plakon's support for the vast education cuts hobbling the state, in addition to raising red flags about imminent privatization concerns for schools. She's also been quick to pounce on the Republican tendency to incentivize big business ventures without the necessary accountability.
Dentel's out-of-the-gate negative ads haven't come without their costs. She's now at the center of a miniature scandal drummed up by a public records request from the Republican Party of Florida (and one of Plakon's donors) that alleges that she used her school email account for campaign purposes. In her defense, Dentel calls the charges frivolous, adding that her legal counsel expects them to be thrown out. (Plakon swears on his virtual Bible that he had nothing to do with the records request).
"I knew that was coming. It doesn't bother me at all," she says, with an air of incredulousness. Besides, it's just a taste of what she'll have to deal with if she joins the minority party in Tallahassee in January.
"Having 13 years of experience as a teacher, I'm used to dealing with unruly children," she laughs.
Florida House District 47: Linda Stewart vs. Bob Brooks
If the racket from the local political trenches is to be believed, the race for Democratic-leaning HD-47 – which encompasses most of tiny downtown Orlando – has turned into a grudge match of name-calling and animus. Former County Commissioner Linda Stewart, the source of plenty of rackets over the years, rose to the challenge of filling outgoing state Rep. Scott Randolph's big-D shoes following her 2010 defeat in the county mayoral stakes. Her opponent, Dr. Bob Brooks, is effectively her political opposite, making a name for himself as part of the religious right during his mid-'90s tenure in the Florida House of Representatives. On the right, he says she's going to be a tax-and-spend liberal. On the left, she says that he's a threat to women and gays who's bent on peddling "mistruths" to ensure Tallahassee's good ol' boy status quo. Never the twain shall meet.
"He clearly states that the reason he's going to be a good representative is because he's joining the party of power," Stewart says. "I'm not going up to be in any party. I'm going to represent you. We're supposed to be representing people."
Among the people Stewart aims to represent are the gay citizens of Central Florida, a fact driven home by what has become her campaign's centerpiece. In 1995, Brooks was among the 14 legislators that signed a letter chastising Disney for offering same-sex partner benefits. Brooks' argument at the time – and, remember, he's a medical doctor – was that the move would potentially increase health care costs for the company (which would translate to higher costs for its customers) because it would "increase the spread of AIDS." To put a finer point on it, the letter asserted, "we strongly disapprove of your inclusion and endorsement of a lifestyle that is unhealthy, unnatural and unworthy of special treatment."
Brooks would not return calls for this story, but in his Orlando Sentinel editorial board meeting, he did his best to obscure his previous, extreme convictions. (The newspaper went on to endorse Stewart for that reason, largely.) His focus today, at least according to his website, centers on fiscal conservatism. Still, Stewart claims the Brooks' campaign operatives have been adamant in their pursuit of her on the campaign trail, occasionally referencing (somewhat hilariously) old Weekly articles that found her surrounded by drag queens or singing karaoke in a gay bar. Somebody accused the wife and mother of actually being homosexual. "They're nasty," she says.
And while Brooks is clearly outraising Stewart (largely via the party machine and business interests), Stewart claims to be holding on to her grass roots advantage through daily personal contact and canvasing. Her focus in Tallahassee, should she win, will be on education, green jobs, water treatment (she's a big proponent of desalination to offset predicted water shortages) and preventing sprawl – areas she's familiar with from her years on the county commission.
"In 2014, Central Florida will have no aquifer," she says. "You can't just sit around and wait for 2014 to get here."