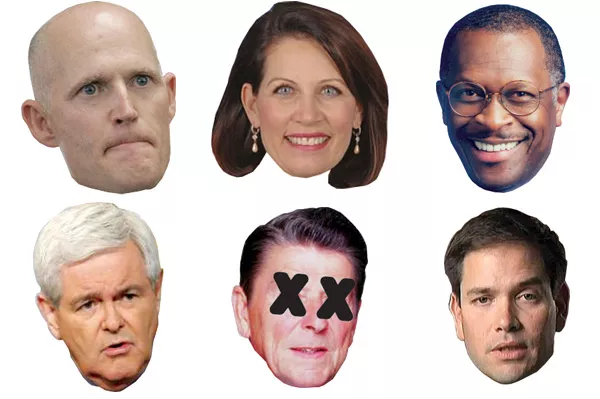 You're supposed to be taking this seriously. The Conservative Political Action Conference, noted for its subtlety in the handling of all universal issues pulling at the public psyche, has taken its show on the road this year, ditching the usual architectural echo chamber of Washington, D.C., in February for the early-fall swamps of Central Florida, where alligators and mud are at the ready for slinging. The one-day gall-apalooza, brought to you by the American Conservative Union, is somewhat uncomfortably sandwiched in the middle of a flurry of events sponsored by the Republican Party of Florida known as the Presidential 5, an irregularly scheduled weekend-long event meant to peak with a straw poll designed to make clear whom Florida's Republican delegation would like to see measuring the White House curtains next year. But that's more of a Burning Man affair, destined for the deep-seated regrets of a prolonged three-day hate bender. You know: hookers, blow.
CPAC (the Florida version) is more of a compressed moment in time, a lost Friday, something that – given the right accoutrements and a steady flow of alcoholic umbrage – could actually register in your mind as an amusement park mistake on a midway of awful. To that end, we've created a timeline of guidelines meant to assist budding neo-cons and anxious rabble-rousers alike in traversing the craters of conceit and rhetoric that will rattle the very foundations of the Orange County Convention Center on Sept. 23 (all for just $45). Strap on your assault rifles and grab your bibles, folks. This is your official Orlando Weekly CPAC primer.
7 a.m.: ACU Chairman's Breakfast
Nobody feels anything at 7 a.m., and unless you're willing to shell out $500 for a "platinum level" registration ("diamond level" is already sold out, plebes), you're likely to miss the piles of bacon and blood meant to bring out the verbal flatulence of grumpy old keynote speaker Newt Gingrich in an exclusive breakfast setting. Maybe you should just turn around and go home.
8:30 a.m.: Pledge of Allegiance and Invocation
You can't go home. Jesus is here.
8:45 a.m.: CPAC FL Welcome
You may not be familiar with him yet, but ACU Chairman Al Cardenas – the only Hispanic leader of the Republican Party of Florida, ever – is a rising star in the conservative ranks. This year he took over the chairmanship from white-haired civil libertarian (gasp!) David Keene, who has since ascended to the presidency of the National Rifle Association. Cardenas has a record of despising women's rights and abortion – and also boasts this year's Grecian Formula Republican hairstyle (dark on top, gray on the sides) – so, naturally, he's more than qualified. He's here to welcome you and talk about Ronald Reagan, whom he worked for, a lot.
9 a.m.: David Bossie, president, Citizens United
Bossie loves women, but only if their last names are Rhee, Malkin or Bachmann. Citizen's United, according to its website, "seeks to reassert the traditional American values of limited government, freedom of enterprise, strong families and national sovereignty and security," and does so by producing tea-flavored films like From the Heartland: The Awakening of the Conservative Woman. Also, he's the reason you know who Gennifer Flowers is, thanks to a lifelong vendetta against Bill Clinton. Boring.
9:15 a.m.: Michele Bachmann, U.S. Congresswoman, R-Minn.
Are you back? Because this is where the real crazy kicks in. Bachmann's recent foray into health science, about which she has no clue, has only served to further caricature her wandering-eye death stare in the face of declining poll numbers. Somebody will inevitably yell out "Gardasil!" at which point you have license to act "retarded." You, little girl, are about to get raped by the government!
9:30 a.m.: Mitt Romney, former Massachusetts governor
Romney will inevitably materialize with a poker-themed "four aces" ramble, while running away from his own leftist history in sorting out the health care issue in Massachusetts. The flagging former frontrunner may seem a little frazzled by the bifurcation within his own formerly Ken-Doll-ready party, but – this being Florida – he will more than likely retain his approachable absence of dignity as a gift for the olds. Still, this will be a long, Mormon 15 minutes. Time for a bathroom break.
9:45 a.m.: Newt Gingrich, former Speaker of the U.S. House of Representatives, R-Ga.
Fresh from a two-hour bacon nap, Gingrich will surely wow the audience by reminding them how dumb they are. Last we heard, Gingrich's chances were falling quickly, a fact illustrated last week by a horrific Tea Party town hall at the downtown Orlando public library, at which he fielded questions about turning the Mexican border into a playground for target-practice enthusiasts.
10 a.m.: Thaddeus McCotter, U.S. Congressman, R-Mich.
All you need to know about this bald, gangly presidential hopeful is that he has a star-spangled Telecaster guitar and plays for a band called the Second Amendments. Oh, and he likes dogs … and sometimes unions. Also, he has no chance.
10:15 a.m.: Wayne LaPierre, executive vice president, National Rifle Association
Oh, we can see where this is going. The only people lucid at sunrise are those who consider mechanical violence a sport. There is no better wake-up call than a Second Amendment shot at the sunrise. You should probably take a shot from your flask now, too.
10:30-11:30 a.m.: Panel discussions
Thankfully for you, this sad parade of ego and ire takes a breather for an hour, long enough for a couple of panel discussions about things Republicans have already decided. The first, "An Inconvenient Truth? Can We Balance Our Energy Needs With Environmental Stewardship in a Post-BP Spill World?" will be an inane public relations exercise featuring Florida Commissioner of Agriculture and Consumer Services Adam Putnam (among others) that both ignores the fact that there is ostensibly still oil spilling into the gulf and attempts to make Floridians feel like said spilling is in the interest of their freedom. The other panel – next door, at the same time – will try to present Florida as some kind of educational model, even though our kids are getting dumber. It's safe to say that both should be avoided, unless you're fond of Dean Cannon's chiseled jawline.
Your better choice would be to slide over to the training rooms where "refreshments" are being offered by Americans for Prosperity; refreshments and classes on social media and "using humor for effectiveness." That joke isn't funny anymore.
10:45 a.m.: Marco Rubio, U.S. Senator, R-Fla.
The original American Psycho is here. He will have nothing to add.
11 a.m. – 12:30 p.m.: Fire from the Heartland: The Awakening of the Conservative Woman
That movie we talked about before is actually showing, and Michele Bachmann will be prominently featured. This didn't work for Sarah Palin. You may, however, choose to use this time for a terror nap.
11:15 a.m.: Florida U.S. Senate Republican primary straw poll forum
Why does it sound more appealing to sleep through a cinematic Bachmann vehicle than listen to the jockeying nonsense of Senate hopefuls Adam Hasner, George LeMieux, Mike McCalister and Craig Miller? Because it will be.
11:45 a.m. – 12:45 p.m.: Panel discussions
Seriously? In "Breakout Room 1" you can stew along with new NRA President David Keene and St. Petersburg Times political editor Adam Smith (plus some corporate types) as they discuss the 2012 political "landscape." Or you can opt for a property-insurance reform gabfest with a couple of state senators and virtually nobody else. You should still be napping.
Or training! Americans for Prosperity are back to teach you about making websites and disrespecting state and local journalists. No refreshments this time. (Check your flask).
12 p.m.: Panel Discussion: Controlling Government Spending: Would a Balanced Budget Amendment Work?
No, but this may be the only chance you get to say something awful to waxy pledge-man Grover Norquist, who, along with Dick Armey of FreedomWorks, will play out their yawning bedtime story about how all of your sorrow is caused by public employees. This is a grumpy lunch.
1 p.m.: Rick Perry, Texas Governor
The feathered haircut who thinks that Social Security is a ponzi scheme brings the celebrity factor back into view. Without Romney in the room to spar with, Perry is likely to make the crazies swoon with his kill-'em-all Texas tea. He's a certified frontrunner, y'all. It's like an opposite world where what's worst for you seems best. Drink! Then secede.
1:15 p.m.: Gary Johnson, former New Mexico Governor
The sound of one hand clapping.
1:30 p.m.: Rick Santorum, former U.S. Senator, R-Pa.
"The frothy mix of lube and fecal matter that is sometimes the byproduct of anal sex," says Google.
1:45 p.m.: Ron Paul, U.S. Congressman, R-Texas
Self-professed "Dr. No" comes to town to greet his libertarian base that apparently would rather watch everyone die than consider compassionate health care. Just ask his dead former campaign staffer. Revolutions do involve killing people, after all.
2 p.m.: Herman Cain, businessman
The only black man in the room.
2:15 p.m.: Jon Hunstman, former Utah Governor
The other white Mormon will try once again to make everybody forget that he was an Obama appointee. He will fail miserably. However, this is also the point where you're most likely to hear references to Kurt Cobain and/or heroin! Hope you brought your gear, junkie.
2:15 – 3:30 p.m.: Panel discussions
Eternal grumblepuss Bill Kristol joins the Heritage Foundation and the American Conservative Union to discuss bolstering defense spending and "the price of freedom." Or, next door, the Heritage Foundation, the Tea Party Express and some conservative author will talk about how they're killing their own party. Nobody wanted to listen to Huntsman, anyway.
2:15 – 3:45 p.m.: Ronald Reagan: A Rendezvous with Destiny
Look! Another movie from Citizens United! This time, our friends Newt Gingrich and his eerily animatronic spouse Callista walk us through the whitewashed legacy of the Gipper. We've seen the trailers. You should probably avoid this and head for something a little more two-sided – like the bar.
2:45 p.m.: Rick Scott, Florida Governor
Toastmaster par excellence Rick Scott will bedazzle the assembled minions with his tight grasp on issues like getting people to work. Or, he'll start sweating, sway around in vertigo and tear the stage down with his windmill arms. Seeing as most of Scott's speeches last a maximum of two minutes (handlers ahoy!) this could be your perfect opportunity to stop, point, laugh and carry on. You are either drunk or tired enough not to care by this point. Voldemort! Have you considered shaving your head yet? Oh, wait. It's not that kind of conference.
3 p.m.: Panel discussion
Or is it. This little doozy, titled "Our Enduring Values – Faith, Family & Freedom: Should There Be a Truce on Social Issues in 2012?" should probably come with a warning sticker that basically just says, "no!" First of all, that "truce" was promised two years ago in the midterms and resulted in a staggering amount of social warfare from conservatives. Second, John Stemberger of the Florida Family Policy Council is moderating. He will shut you down if you don't utter the word "faggot" at least once. In other words, if you want your whiskey anger to kick back in, make sure to get there early.
3:45 – 4:45 p.m.: Panel discussions
In one room, we have Florida Senate President Mike "rodent" Haridopolos, Florida Attorney General Pam "Barbie" Bondi and former Attorney General Bill (horse!) McCollum handwringing about health care reform that they all have publicly and litigiously opposed, so there will probably be a lot for them to talk about. In another room, it's all about recruiting the kids currently suffering from an "Obama hangover." Your own hangover should be kicking in about now. Maybe it's time for a nap in some hidden convention corner? Just don't make any noise.
4 p.m.: Luis Fortuño, Puerto Rico Governor
Can we haz Latinoz??? Zzzzzz.
4:15 p.m.: Jennifer Carroll, Florida Lt. Governor
This is how you get ahead by doing nothing.
4:30 p.m.: Results announcement
Oh my God. This is what you've been waiting for all day, right? You've endured the stuttering speeches, the indoctrination, the pantomime of debate. Now is the time when it all comes to a head. You're just getting you're second wind. You're about to know just which one of these heads that talk things from their mouths is going to be your next leader! Wait, what's that? It's the Senate straw poll? LeMieux. Le sigh.
4:45 p.m.: Panel discussion
All that adrenaline you've just wasted on anticipation should find a home here. This is the "Lightning Round! Politics and Punditry from Washington to Orlando." Hmm, but it's the Heritage Foundation shuffling its moneyed feet while Bill Kristol whistles along, you say? Is it possible that a lightning round can actually involve a lightning strike?
5:45 p.m.: Ann Coulter, bestselling author and conservative pundit
Everyone's favorite hat-rack-with-a-wig storms the proceedings with her evenhanded political schtick, just in time to bring this charade to a (near) close. Earlier this year at the real CPAC in Washington, D.C., Coulter laugh-tracked her way through assaults on Democratic Party foreign policy ("It's a mistake to ask those who don't even like democracy to defend it") and health care reform ("[Pres. Obama] turned over our entire health care system to the Department of Motor Vehicles"). See, she just says stuff. People love this shit. She's available for both gay weddings and Klan meetings. Coulter's versatile like that.
6:15 p.m.: CPAC FL Closing
What? It's over already? You should have known that Coulter was the orgasm of the CPAC roller coaster – that last loopy-loop before the inevitable braking. And here we have Cardenas back to bid us adieu. That is, unless you're a platinum member. Then you can head to the VIP Reagan Reception where countless deals will be signed, cigars smoked and lives ruined. Not to worry, Reagan won't be there. As you may have observed throughout your day of conservative endurance, dancing around the corpse of what used to at least seem like a reasonable party machine, Ronald Reagan is dead.